Thursday, March 15, 2007
so that you will be able to browse my posts by subject. :-)

of italian journalism: Indro Montanelli.

I learned history from his books, rather than the school-suggested textbook, and God it was funnier! I still remember with fondness the wide open eyes of my history teacher, when I told her that Julius caesar was a womanizer (and gay too), citing don't remember who (svetonius? boh!) called him Moechus Calvus.

Go and read up his story, certainly more movimented than most of us.
Posted by Luca Fenu at 9:34 am 0 comments  

Wednesday, March 14, 2007


I took it from Pharyingula, cited so many times in here that you don't really need the link anymore I guess. Just google it. Feel lazy today uh? Ok I inserted it.

Also on pharyngula, the incredible news of a woman with one more nipple in her foot
Posted by Luca Fenu at 2:18 pm Labels: blogs, fun 0 comments  


e sono morti...

yes I am talking about the Termopilae battle, and the new movie 300 based on Frank miller's comic which re-tells the story.

My dear friend daniele is longing to see it, although the NY Times review I sent him didn't quite covince him. I couldn't be bothered to read it. But I did check the IMDB, and the movie has quite a high rating, at 8.4. Not half bad, having jumped as high as #156 in the best 250 movies ever (for the voters of the site). Unless the 17848 voters are all Miller fanboys, i can't see how the movie can't be bad. I'll check it out, then.

I guess there will not be much suspense, though, with the ending known since two thousand and a half years... :-|

for some reviews in italian, go here.
Posted by Luca Fenu at 9:36 am Labels: cinema, diary 0 comments  

Tuesday, March 13, 2007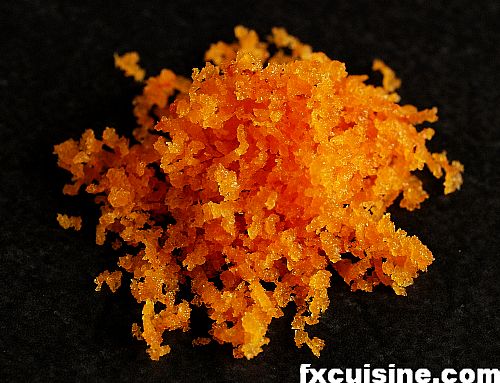 first, a link to it.

then, the way I make it:

first off, these are ingredients for 4 hungry italian boys, so scale them accordingly:

- 5-600 gr of pasta (yes, that's 125-150 gr each: I did say we were hungry)
- a bunch of parsley, flat leaf if possible 'cause it's softer and it cuts better...
- 50-80 gr of butter, if you really have to substitute it with margarine, but believe me it's not healthier :-)
- two cloves of garlic, as fresh as possible if you can.
- one strong chili pepper dry or fresh.
- and yes, some 50 gr of bottarga, freshly grated/ground.

ok, start putting the water on the fire. some 4 liters should be fine, plus a fistful of salt.
in the meanwhile it gets hot, you finely chop the garlic and the chili, melt the butter in a sauce pan (a wok is perfect, if you have one, 'cause you'll need to mix the pasta in it afterwards) and put them in. leave like that for two to three minutes, make sure that the butter is on the verge of boiling but do not burn the garlic. in those three minutes, you finely chop the bunch of parsley, and you add them to the pan. leave one minutes and then shut the fire off.

now, your water should almost done, when it's happily boiling pour in your spaghetti, barilla number 3 if you can find them or any other kind of dry pasta you like. it'll cook itself just stir it from time to time.

don't keep your thumbs idle, though, you grind/grate the bottarga and pour it in the wok, mix it with the rest until it adsorbs the butter and creates a kind of sauce. if it's too dry, add a little bit of butter or olive oil or else some water from the pasta (diet choice).

roughly drain the pasta before it's "al dente", and turn on the fire behind the wok/saucepan. pour the pasta in with a lil bit of cooking water (a few spoonful, or what's left if you drain it quickly), and stir vigorously, until the sauce has spread more or less evenly. then divide it in portion and serve. enjoy! (keep the dishes slightly warm, so that the pasta will stay warmer while you eat it)

variation:

- chives instead of parsley, black pepper instead of chili, and so on. just experiment!!!

luca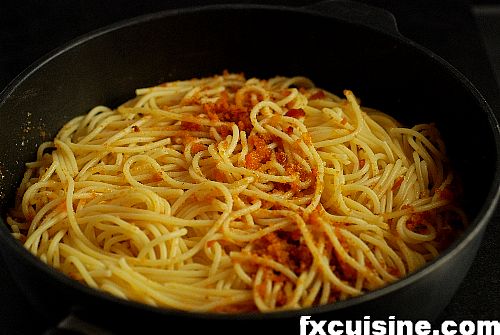 other recipe with pictures (that's where I took them from - mine looks much more different, with lots of parsley and ground garlic all over the place

Silly me, you may need to buy it. (never tried it, though)
Posted by Luca Fenu at 6:03 pm Labels: cooking, diary 0 comments